If you're starting a new business or expanding an existing one, you'll want to check out the business plan templates at BusinessPlanTemplate.net. I've just added two dozen new documents that support the creation of such a plan.
The site has a large selection of sample business plans as well as forms and charts. There are also several articles with tips on how to frame and write a plan.
All of the business forms and templates are free to download, edit, and print for your personal use.
The new additions to BusinessPlanTemplate.net include budget forms, income and expense sheets, a bank reconciliation statement, balance sheets, and applications for employees and investors.
There are also templates for business proposals, a contingency plan, succession planning documents, a marketing calendar, and worksheets for creating bylaws and mission statements. Other forms are intended for website planning such as a traffic tracker.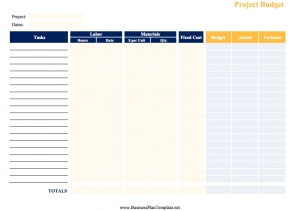 There are more than 100 sample business plans at BusinessPlanTemplate.net. Besides plans for start-ups and expansions, there are templates for specific businesses as well as a one-page business plan and a fill-in-the-blanks business plan. They're appropriate whether you're growing your business or seeking new investors.
The free printables are available in editable DOC (Microsoft Word) format, and, in some cases, as XLS (Excel) files.