Santa can use a little help! SantaPrintables.com has added 24 new letters from Santa. These illustrated templates let parents, grandparents and so on assist the busy guy with replies to children this holiday season.
"Kids love writing letters to Santa. But half the fun is getting a reply," said Kevin Savetz, the site's creator. "These letters have holiday-themed borders and wording for all kinds of situations. Plus, they are digitally 'signed' by Santa."
The letters are free to print as-is in PDF form. There's also the option to purchase a $5 editable version that can be opened in Microsoft Word (or any DOC-compatible program) and typed into, so users can add names, family details, gift references and more.
The colorful borders feature presents, trees, ornaments, Santa and elves. Each letter has wording for situations ranging from Baby's First Christmas to special concerns a child might have. There are even letters to the family pet. And not all of the letters are from Santa. The elves, Mrs. Claus and reindeer have "written" letters as well.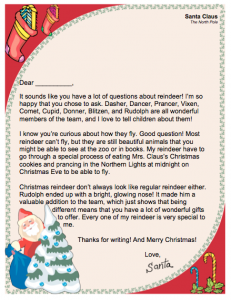 There's a letter covering why a present has to be delivered early, the reasons Santa can't bring a puppy or a new baby, promises to replace a broken or defective toy, and how parents can be Santa's helpers. There's a new Santa concern letter about St. Nicholas, a letter explaining how Santa travels the world in one night and a humorous letter about whether or not Santa is breaking and entering in the family home.
"The funny Santa letters at SantaPrintables.com are especially popular," Savetz said. "Adults and older children will enjoy hearing about their 'naughty' behavior and the lump of coal that is due to them."
There are new Magic Elf letters, a "naughty notice" that cites bad behavior, a letter about why the elf didn't move overnight and other missives from Andy the Elf. Some of these are written in rhyming verse.
The site also has templates for children to fill out when writing to Santa, gender-specific letters and Christmas-themed games and activities.