It's natural to want to put off planning for your own death, but doing so will save your survivors time and heartache. That's why I created my latest website, DeathPlanner.net, which has printable
death planner
, checklists, forms, and worksheets. I've been wanting for some time to offer a one-stop online resource like this, and I'm pleased that at DeathPlanner.net there's a free option for each and every printable. The site has 25 printable forms, with more on the way, that help with planning a funeral, preparing legal documents, organizing online passwords, and other tasks, whether you're thinking ahead for yourself or already grieving the loss of someone close.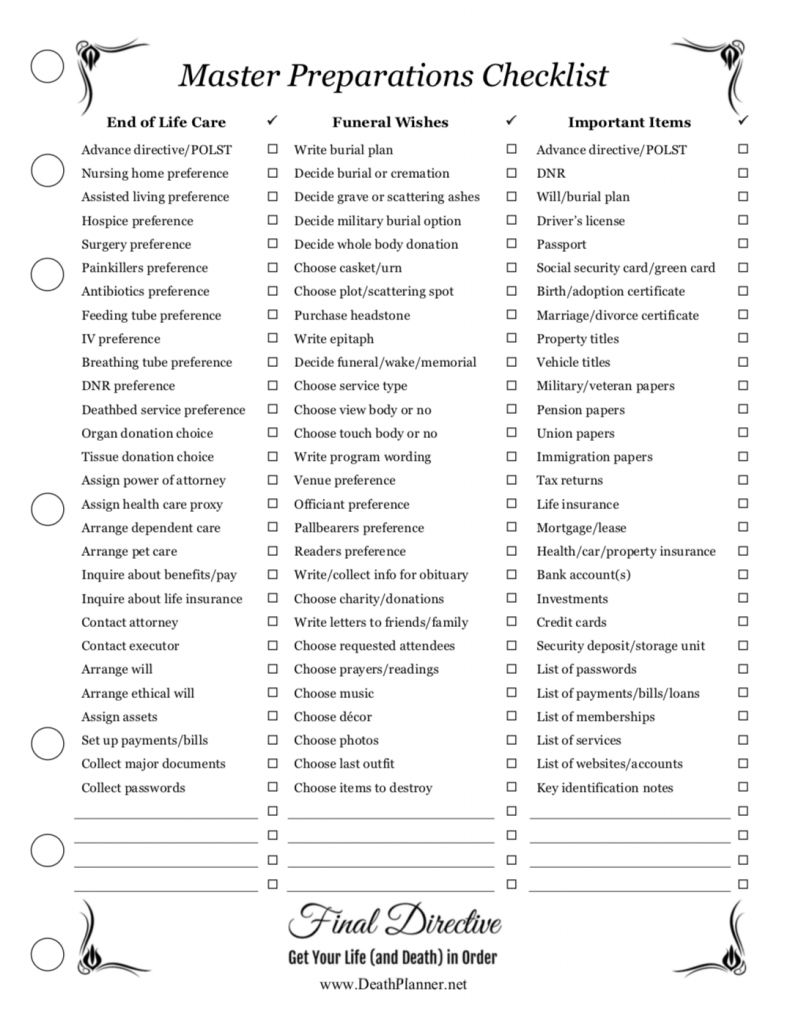 The site's Final Directive
planner
has hole punches indicated to aid in gathering all of the information together in a ringed binder. The forms include: a list of people to notify, a final wishes planner, an assets worksheet, a contacts list, locations of valuables, designees, and master checklists and to-do lists. DeathPlanner.net also has a program template, a service worksheet and a guest list for
funeral services
. The
official forms
at the site include a will and advance directive as well as related templates for expressing one's wishes. Of course, be sure to consult an attorney when you need one. Everything at DeathPlanner.net is free to download one at a time in PDF or editable DOC form, so you can write by hand or type into the resources before printing. Or, there's the convenient option to download all of the forms at once as a
Collection
for $27.