Did you know that besides FreePrintable.net, I also have FaxZero.com, an awesome site and service that lets you send up to five free faxes per day, or send more faxes (or even international faxes) for a small fee.
One of the most popular features of FaxZero is the ability to users fax their representatives in the U.S. Senate and House for free. This week, I added the ability to instantly send a free fax to state governors.
FaxZero's fax Congress and fax the Senate service has been especially popular as those in the U.S. want to make their voices heard on issues as diverse as health care, national security and voting rights.
The addition of the ability to contact governors in just one click was a natural extension of FaxZero's commitment to helping people communicate via fax. In the years since I founded FaxZero in 2006, more than 15 million faxes have been sent via the site.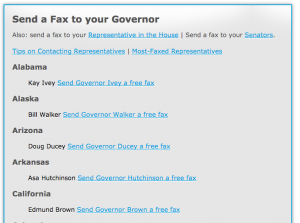 The fax governors service has the fax numbers of the governors of all 50 states loaded and ready to send, so it's easy to type in and fax a message, even on mobile devices.
The governors, senators and state reps are listed alphabetically by state or territory. If an elected official doesn't accept faxes, I've noted that on the list.
FaxZero reflects the current 115th U.S. Congress and. There's also the option to send a free fax to Attorney General Jeff Sessions.
I'm a huge proponent of faxing one's representatives, especially when phone lines are busy and emails can go unanswered. It's a great way to make your voice heard.
You can also visit FaxZero see which reps are being faxed the most via my service by day, week or month. Plus, you'll find a guide with tips on how best to reach out to a representative on a policy issue with respect and brevity.
FaxZero users can send five free faxes per day, each a maximum of three pages, to anywhere in the U.S. or Canada. FaxZero also offers a premium faxing option for $1.99, with no daily limit and up to 25 pages per fax. FaxZero also offers an international fax service with prices starting at $2 (depending on which of the 180 nations is being faxed. You can fax documents in DOC, PDF and other common file formats.