I've added a couple of new invoice templates to PrintableInvoiceTemplates.net. There are designs especially for freelancers, small business owners, and specific industries.
The new industry-specific invoices include forms for a caretaker, day care, and landlords.
There are also new, colorful invoices with graphics. (Of course, to save money and ink, you can always print anything in black and white). I've added a large-print invoice, a centered invoice, a retro font design, invoices with decorative lines, and a "notepaper" invoice.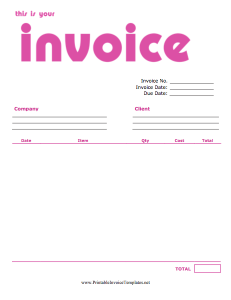 PrintableInvoiceTemplates.net also has inventory forms, expense reports, purchase orders, and billing documents.
One new template has space to add mileage. Another allows two recipients to split a bill. There's also a rental equipment invoice and a child allowance invoice.
Each template is free to download and print as a PDF. An editable XLS spreadsheet version is also available for $7 per design.
The new additions bring the total number at PrintableInvoiceTemplates.net to 320. There are even more business forms at BusinessFormTemplate.com."