I've added brand-new law- and court-related forms to LegalPleadingTemplate.com, a site I started in 2008. Back then, it was focused on printable legal pleading paper with various numbers of lines and spacing for various courts.
Now, LegalPleadingTemplate.com has more 324 forms, charts, and other useful printables. They're ideal for attorneys, law students, court employees, and people who've opted to represent themselves in court. Each item is free to download and print.
As always, I need to stress that these handy templates aren't meant as a substitute for legal advice.
There are more than two dozen new printables, including more legal pleading paper templates – even paper for specific states and territories.
The newest additions include: several affidavits, a blank amicus curiae brief, peremptory challenge forms, motions to increase or reduce bail, and forms related to depositions. There's a selection of labels for exhibits that can be printed onto sticker paper. These can be used by court reporters and attorneys, or in law school simulations.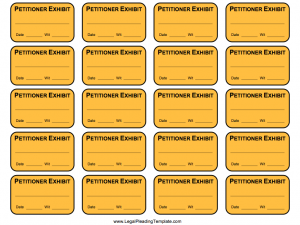 I've also added: an attorney complaint form, an interrogatory form, and a notice to appear. LegalPleadingTemplate.com also has blank court forms, law office printables, notary forms, and more.
Besides the option to download and print one item at time, the site also offers a time-saving $99 all-in-one download Legal Forms Collection of every printable at the site.