There's nothing quite as calming as taking crayons or colored pencils to paper. I've just added nearly two dozen adult coloring pages to my website AdultColoringPages.net, and they're all free to download and print.
I started AdultColoringPages.net in 2006 and it's not grown to include more than 300 designs.
The new coloring pages include intricate, circular mandala coloring pages with lots of small areas to color. There are swirly mandalas, snowflake mandalas, and spiky mandalas. I've also added new pattern coloring pages with interlocking diamonds and lace.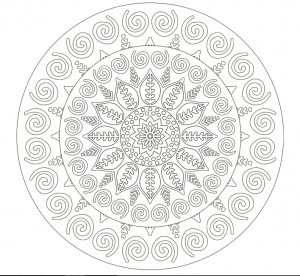 AdultColoringPages.net also has abstract, geometric, and nature coloring pages plus fun and educational map coloring pages.
Any coloring page can be downloaded as a PDF file for free. Or, conveniently download the entire 311-page coloring collection for $9.99.
You can also buy compact printed coloring books in Pattern, Floral, Mandala, and Geometric themes at Amazon for just $9.99 each.
AdultColoringPages.net is a sister site to FreePrintableColoringPages.net, which has thousands of coloring pages for kids or anyone who likes to color.