When the Jewish New Year, Rosh Hashanah, began at sundown Sept. 20, 2017, PrintableJewishCalendar.com was ready with free printable Hebrew year 5778 calendars.
People of the Jewish faith, or anyone wanting to keep track of Jewish holidays or Hebrew dates, will want to download and print the site's Jewish calendars. Since 2009, PrintableJewishCalendar.com has offered free Hebrew calendars with corresponding Gregorian dates. The most recent additions are the 2017 and 2018 calendars with Jewish holidays or the holidays along with Hebrew dates.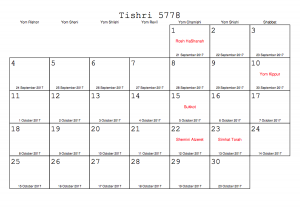 The site also has a free Jewish Calendar Generator that you make custom calendar variations and print them instantly.
The calendars are free to download and print one at a time, and there's also a convenient all-in-one download for $3.99.
PrintableJewishCalendar.com is a sister site to the 2017 calendars site, Printable2017Calendars.com, as well as the 2018 calendars site, Printable2018calendars.com.