I am totally on the ball! The 2019 calendars website, Printable2019calendars.com, is already live and ready for you to download free printables for your home, office, school, or any other place in need of a calendar.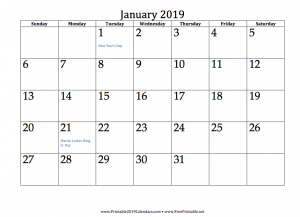 The site has launched with the most-popular calendar designs. So, you can download the whole year in one 12-page file or just print a single month at a time, as you feel like it. Printable2019calendars.com also has a large-print calendar with holidays in red, academic calendars, or versions with the entire year on one page. (And I'll be adding even more designs as it gets closer to 2019, so stay tuned!)
Like I mentioned, everything at the site is free. Choose from PDF versions or, in most cases, a DOC version you can type into with Microsoft Word. Add birthdays, appointments, school assignments, and so one.
If you can't face 2019 this early, head for the free 2017 calendars
at Printable2017calendars.com or the 2018 calendars at Printable2018calendars.com.