Hanukkah begins on Dec. 2 in 2018, and those who celebrate will find hundreds of printables at my FreePrintable.net sites. From coloring pages to page borders to certificates, there's a free option for every printable.
There's a Hanukkah grocery list at FreePrintableGroceryList.com, a recipe card at FreePrintableRecipeCards.net, and even Hanukkah fax cover sheets at FreeFaxCoverSheets.net.


The Hanukkah coloring pages at BibleColoringPages.org feature menorahs, dreidels, traditional foods, and children celebrating the holiday.
FreePrintableGiftTags.net has Hanukkah gift tags with images including stars of David, dreidels, menorahs, and candles. Hanukkah and Chanukah certificates can be found at FreePrintableCertificates.net.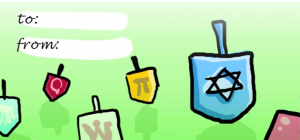 At PageBorders.net, you'll find a colorful Hanukkah border and PrintableSigns.net has Happy Hanukkah signs. Or, print Happy Hanukkah banners at PrintableBanners.net.
I hope you know about PrintableJewishCalendar.com, where you can print Jewish calendars that cover this year and 2019, plus corresponding Hebrew year 5779. Choose from versions that highlight Jewish holidays or calendars displaying Gregorian dates along with their Hebrew equivalents. Everything at the site is free to download and print.
In fact, there's a free version of every printable at my sites. Some, such as the recipe cards and certificates, are free as PDFs or a few dollars for a customizable DOC (Microsoft Word) version. Happy Hanukkah to all who celebrate!