More than two dozen new cash receipts have been added to PrintableCashReceipts.com and they range from sales slips and rent receipts to petty cash and donation receipts.
The receipt templates are useful to small businesses, freelancers, nonprofits and anyone else who needs to issue or request a printed receipt.
The site has new donation receipts, recognizing receipt of equipment as well as contributed items and event-related services.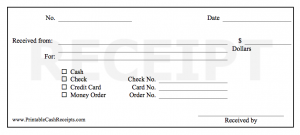 Other new templates include: sales slips, advance receipts, bail bonds receipts, real estate receipts, a barter receipt, a trade-in receipt, cell phone receipts, claim checks, a PayPal receipt, stock transfer receipts, receipts with coupons and deposit receipts. Also new are claim checks, coat check receipts and parking receipts.
Some receipt designs have several on each page while others take up a full page. There are also square, rectangular and ledger receipts.
Each design has both a free PDF and a $7 premium editable DOC (Microsoft Word) version.