If you're a small business owner, freelancer, or just need a random cash receipt, you'll want to check out the templates I've added to PrintableCashReceipts.com.
The new cash receipt templates bring the total number of designs at PrintableCashReceipts.com to nearly 300.
The 20 new receipt templates range from simple sales slips to receipts for specific businesses and ventures such as charities and online sales.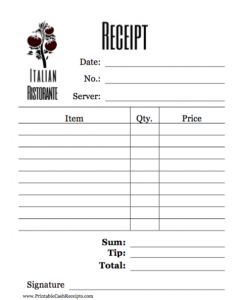 PrintableCashReceipts.com also has several variations on rent receipts and petty cash receipts.
The new, illustrated business receipts include: a bed and breakfast, an Italian restaurant, a pizza place, and a wine bar. New sales slips are designed for the sale of a boat, a motorcycle, furniture, jewelry, or a pet.
Other new additions to the site include: a parking receipt, a collateral receipt, a company property receipt, a library fines receipt, and several deposit receipts. I've also added new donation receipts.
Some of the receipts at PrintableCashReceipts.com are full-page while others print with three or four per sheet. There are also a few ledger receipts.
The receipt templates are free as PDFs or, for those who want to edit the receipts (adding a business name or other info), there's a DOC (Microsoft Word) version for $7 per design.