The Jewish New Year starts with Rosh Hashanah at sundown on Sept. 9, 2018, and the website PrintableJewishCalendar.com is ready with sets of Hebrew calendars for the year 5779 as well as its Gregorian equivalents for 2019.
There are several variations at the site, and each is free to download and print.
PrintableJewishCalendar.com has 5779 Hebrew year calendars that also display the corresponding Gregorian dates. The 2018 and 2019 calendars can be printed with Jewish holidays or the holidays along with Hebrew dates.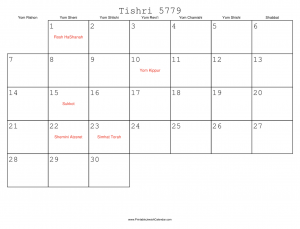 You can also use PrintableJewishCalendar.com's free Jewish Calendar maker to generate a custom calendars to print.
Any calendar at the site can be printed for free, but there's also the convenient option to instantly download the entire calendar collection for $3.99.
PrintableJewishCalendar.com is a sister site to Printable2018Calendars.com, which has 2018 calendars, and Printable2019calendars.com, where you an already find an array of 2019 calendars.