Any time you need lined, graph, or specialty paper, just head to PrintablePaper.net to instantly download exactly what you need.
I recently added dozens of new printable papers, bringing the total at the site to more than 1,900. The selection ranges from lined note paper to music paper, and there's a free version of each item.
There are new versions of lined paper with 2mm, 4mm, and 8mm line spacing as well as two variations of Cornell dot paper that's great for notetaking and bullet journaling.
You'll also find a new set of specialty paper whose backgrounds feature texture effects such as aged paper, burned paper, coffee stains, bokeh, cracks, crumbling, fire, tin foil, marble, wood grain, and torn.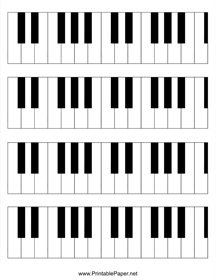 The new music paper is one- and two-octave piano paper. These designs complement the existing selection of staff paper and guitar tablature sheets.
PrintablePaper also has crafting paper, penmanship paper, budgets, games, score sheets, storyboard templates, comic pages, calligraphy paper, logarithmic paper, calligraphy paper, 3D paper, brochure templates, and lots more.
Remember, there's a free version of everything. A few categories, such as budgets, offer a free PDF version as well as a $4 editable DOC version that can be typed into using Microsoft Word or another compatible program.