I recently added new printables to three of my job-related sites. Now, there are even more resume templates, cover letters, and recommendation letters from which to choose.
With the latest additions, there are now more than 400 resume templates at InstantResumeTemplates.com. Each is free to download, customize, and print.
There are basic and full-color sample resumes for specific industries as well as for first-time job seekers and those reentering the workforce. You'll also find resumes designed with basic formatting and fonts that can easily be read by Automatic Tracking System (ATS) software.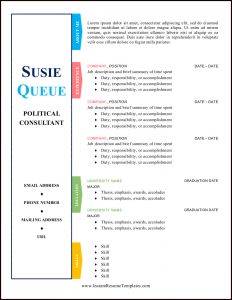 Some of the new resume templates are relevant to the coronavirus pandemic such as telecommuting, gig work and retail positions.
InstantResumeTemplates.com also has academic and scholarship resumes along with templates for student volunteers. Each new resume template at InstantResumeTemplates.com is available in both letter and A4 size. Each template downloads in DOC (Microsoft Word) format to type directly into.
CoverLetterExamples.net now has 327 cover letter templates that serve as a jumping-off point to craft a letter to accompany a resume or job application. There are also letters for academic pursuits and other situations.
The new letters range from essential worker jobs to student positions to pandemic-related working conditions. There are also new letters to accompany scholarship applications, fee waivers, and financial aid queries. Also new are letters relating to: a performance callback, gym membership cancellation, project extension, literary revisions, medical records, and donations.
Each sample letter is free to download in DOC format and customize for personal use. CoverLetterExamples.net also has articles with tips on cover letter writing.
If you need a starting point for crafting a letter of recommendation, head to LettersOfRecommendation.net. There are now 337 templates.
The new letters include job-related recommendations for: a security guard, a public relations professional, a graphic designer, a cook, and a chef. There are also new scholarship recommendation letters that cover: academic excellence, financial need, sports, theater, nursing school, community college, and honors college. Plus, find templates for letters thanking teachers who have written letters on behalf of students.
LettersOfRecommendation.net also has sample letters relating to adoption, citizenship, parole and other legal matters, along with character references for personal relationships.