I recently rounded out the collection of family tree and ancestry chart designs at FamilyTreeTemplates.net, making sure there's lots to choose from, for everyone from kids to genealogists.
The new additions include holiday family tree, vintage-look ancestry charts and genealogy research forms. The holiday trees are designed with graphics for Thanksgiving and Christmas, including versions children can color themselves. Another Christmas family tree has name spaces below ornaments.
I've also added an entire new style: radial family tree. These have lines on top of an image of a tree stump, and there are versions with room for up to eight generations.
You'll also find new vintage-look ancestry charts with a background that looks like parchment paper.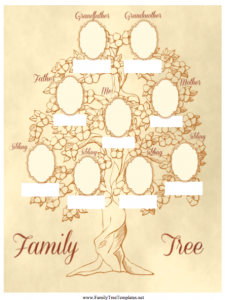 The new genealogy research forms include: an ancestor research checklist, blank passenger lists, a newspaper research log, a nicknames list, and a research calendar.
Be sure to check out the large format family trees that I added to FamilyTreeTemplates.net not long ago. They are designed in 24-by-36-inch poster size so you can print them at a copy shop or anywhere that has a large-format printer.
FamilyTreeTemplates.net now has more than 300 designs, even pet family trees. They're each free to download and print in PDF format, or $4 each for a DOC version that can be typed into in Microsoft Word so you can add names and vital statistics. (Some styles are limited by their design and thus only available as free PDFs.)