I've got a new letters website, especially designed to help you find the words to politely and firmly reject someone or something. I hope you like RejectionLetters.net, with dozens of rejection letter templates, all free to download, edit, and print.
Like the examples at my other letters sites, these rejection letters are best seen as a jumping-off point. Just find a letter that is close in theme your personal or professional situation and then then type into the template to adjust the wording as-needed.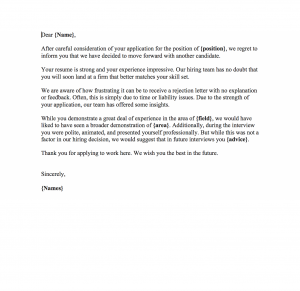 RejectionLetters.net has letters in a variety of topics, including business proposals, personal matters, or financial situations. The job rejection letters include: a basic letter, a follow-up letter, and letters rejecting interns or summer law associate applicants.
Rejection letters relating to money matters deal with turning down a donation request or grant funding and rejecting a personal loan request. You'll also find letters rejecting rental applicants (which reminds me: these letters are no substitute for legal advice.)
Personal rejections need special handling, so RejectionLetters.net has examples with suggested wording for: cutting off contact with someone, declining to be part of a wedding party, and refusing an invitation to the prom.
Download any letter instantly in DOC format so you can edit it in Microsoft Word or another compatible program. Or, just cut and paste the text directly from the site.
I'm going to be adding more letters, so please let me know if you have any ideas for rejection topics.